24K Real Estate Market Update March 2017
2017 is off and running at a good pace. While the struggle of low inventory is keeping sales volume artificially low, price appreciation continues its strong pace. Year over year we're seeing about 8% appreciation in most areas. The supply of homes throughout Metro Denver is once again at an all-time low. Most areas have less than a 30 day supply.
Noteworthy trends/ traits
Strong price appreciation
Competition for quality homes is still high
Builder inventory temporarily higher may be good time to negotiate a bit
Denver metro strong job market, seeing a rise in relocation
Rental rates are seeing some leveling off with lots of new projects coming on line
The charts below show price appreciation since 2012 in four different market segments.
Ranch style home between 2000 and 2400 square feet Median sales price in 2012 $339,950, in 2014 $428,000, in 2016 $489,999. That is 44% appreciation in 4 years.
2 story home between 1,000 and 1,500 square feet Median sales price in 2012 $219,900, in 2014 $264,900, in 2016 $325,000. That's is 48% appreciation in 4 years.
2 Story home between 2700 and 3100 square feet Median sales price in 2012 $375,000, in 2014 $437,500, in 2016 $495,000. That is 32% appreciation in 4 years.
2 story home between 3000 and 3600 square feet Median Sales Price in 2012 $415,000, in 2014 $469,500, in 2016 $524,900. That is 26% appreciation in 4 years.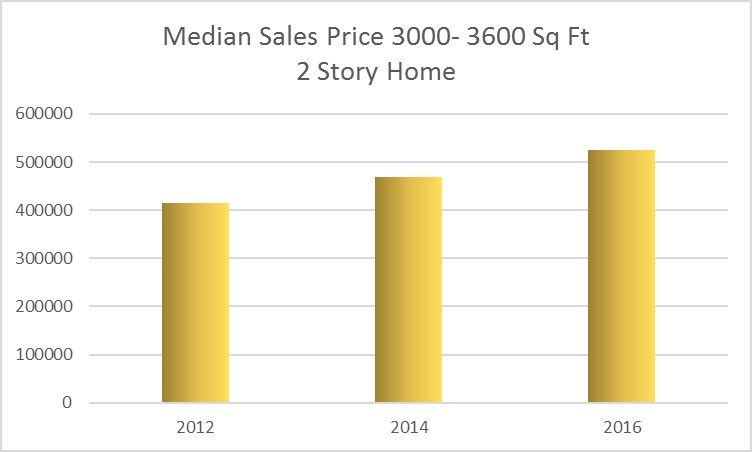 Besides demonstrating a healthy recovery across all these market segments, this also shows that where inventory has lagged, ranches and smaller 2 story houses, prices have appreciated more than where new construction has flourished, the 2700-3600 square foot 2 story home.
The importance of getting sellers and listing agents to analyze offers to consider more than just price has never been higher. Writing an offer that is clean yet protective of the buyer and framing the negotiation in a context of how this will be a successful transaction that gets to the closing on time is critical. I'm regularly successful in getting my client's offer accepted over others that are higher priced and I have to say, it is so wonderful to see my client's reaction.
The charts show how the segments of the market in which new construction is heavy are not seeing as strong appreciation at those where it is not. In fact, we are seeing some flexibility in new home pricing in certain locations. As we enter the spring selling season that is likely to fade, but for now there may be opportunity.
Corporate relocation into Colorado is strong. Colorado continues to be one of the most highly desired locations to live.  Denver is a much sought after assignment and with hiring on the rise across many industries, we are seeing a significant increase in this market segment.
Just drive through just about any municipality in the Metro area and you will see a multitude of apartment buildings in various stages of construction. By the end of 2017, there will likely be an over-supply of apartments and we should see some easing in rates.